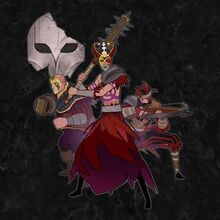 The nature of rebellion is stereotypically mutually exclusive with a unity of purpose, and it is no different with the Maskrunners. Though the Maskrunners are legion, their numbers are fractured into dozens of different factions. Chief among these factions of dangerously disgruntled Contadani are the Malecarte, formerly led by Cyrus Gavar during the War of Bearings, and a more recent splinter cell known as the Dactites, who have, under the care of a mysterious leader known only as the "Herald", proven themselves curiously refined in their practice of the Media.
The Malecarte are now commanded by Lissandra Rorik.
Ad blocker interference detected!
Wikia is a free-to-use site that makes money from advertising. We have a modified experience for viewers using ad blockers

Wikia is not accessible if you've made further modifications. Remove the custom ad blocker rule(s) and the page will load as expected.